The Invitation
I have been selected for the ice-breaking opportunity to voyage on an Antarctic expedition with high-ranking women in STEMM* leadership. This mission is greater than myself. As an early-career botanist, I cannot simply reach into investments, large savings, or wealthy inner network to afford the financial cost. Therefore, I am seeking 100 people to invest $200 each in this life-changing project. 
Please help me get to the Antarctic on GoFundMe or Venmo.
Follow the links below to jump to sections.
*STEMM is the acronym for the fields: Science, Technology, Engineering, Mathematics, and Medicine.
Equitable Leadership and Critical Botany
This is the ultimate opportunity to take my work to the next level. I will research, explore, and collaborate with like-minded leaders for the good of our planet on the global stage. The Homeward Bound Project chose me to participate for my past and potential impact as a leader in science and my community.
For 20 days aboard the ship, my cohort will foster great global change by deepening our individual and collective understanding of fruitful leadership and our earth's systems.
Great change takes excellent initiative and tremendous support. I believe that plants can change the world. While in Antarctica I will study two native vascular plant species in addition to hundreds of mosses and lichen. To harness their power for global betterment, I have embarked on continuous efforts to progress research, my education, and work toward gender equity in science and leadership. Research shows this helps us all — plants included.
I need 100 people to invest $200 each in this project to set sail.
Continue reading for project details.
Timeline
Expedition dates: November 10, 2023 – December 1st, 2023
November 10th - 12th welcome in Puerto Madryn, AR
November 12th - December 1st at sea, studying at Antarctic research sites and stations
Outcomes and Impact
An increasing body of research shows that Antarctica and the Southern Ocean exert significant influence over global climate. As a botanist who studies plant and disturbance ecology, I recognize the substantial worth of Antarctic flora research. I am eager to contribute in Antarctica and bring learnings back home to add resilience to local glacial and coastal communities. I am showing what can happen when grit, community vision, and plants unite to change the world.
Social equity, diversity, and representative leadership are crucial for effective change at all scales. I will improve gender equity in scientific leadership by setting a bold and bootstrapping example of femme in Antarctica for future generations. I actively send the elevator back down to uplift those following by leading in science as an educator, mentor, volunteer, and youth advocate. I am committed to redefining leadership for global wellness to reflect the faces, voices, and needs of a greener future.
I need 100 people to invest $200 each to actualize this vision in Antarctica, at home, and across the globe.
Why Antarctica?
I have a lifelong dream of learning on all seven continents — Antarctica is number six and by far the most difficult to reach. My journey to this remote and extreme landscape enables an immersive experience where I will build leadership, peer-coaching, problem-solving, and collaborative skills with Homeward Bound program mentors, faculty, and alumni guidance. This is my chance to not only learn on the bottom of the world but study in that extraordinary place with the top minds of our time.
This once-in-a-lifetime opportunity will set off a vibrant cascade to positively impact my career, countless individuals, research studies, plants, and ecosystems. Read more in an article I wrote -- linked here!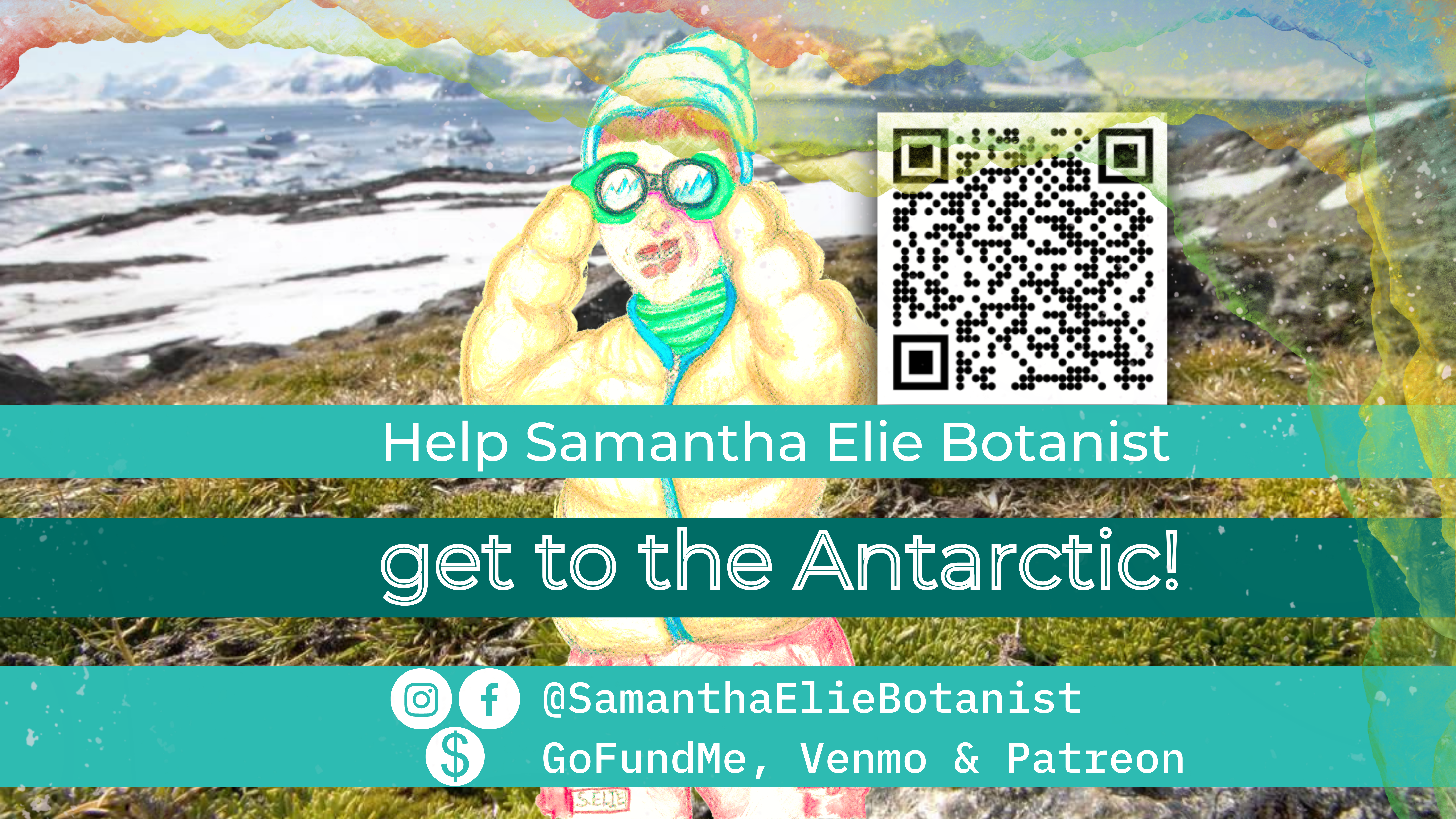 An Ecosystem of Support
The resource dedication it takes to get to Antarctica is immense. It is too enormous for one badass botanist to handle alone, but with my whole ecosystem in support, I can achieve this goal and research, learn, and collaborate for global good in the Antarctic.
If you want to take action as a group fundraiser, sponsor organization, or by publishing a few posts on social media read what being a member of this Ecosystem of Support is all about at www.SamanthaElie.com/An-Ecosystem-Of-Support
Everyone who contributes is a member of the Canopy overhead. Every investor will receive quarterly updates on the Antarctic expedition, steps in leadership, plant research, and other project goals. In addition, you will receive exclusive photos from Antarctica.
Mycelium = Group fundraisers · Old Growth Giants = Sponsor organizations · Songbird = Spread the word · Canopy = All investors
I need 100 people to invest $200 each to progress great change for the betterment of our planet.
I am asking you — please help me, to help plants change the world by being one of one hundred contributing ecosystem members.
Expedition Cost Schedule
Payment #1 $7,035.50 (50%) due by May 1st, 2023
Payment #2 $2,814.20 (20%) due by July 15th, 2023
Voyage Deposit $4,221.30 (30%) paid November 30th, 2022
Voyage expenses: $14,071.00
Out-of-pocket expenses: approximately $5,000 - $7,000
Out-of-pocket expenses are related to the Antarctic expedition and include but are not limited to airfare, travel insurance, and extreme cold weather gear.
Total costs: range from $19,071 – 21,071.
The expedition cost is to be paid in USD. Expedition cost covers two nights' accommodation before departure in Puerto Madryn, AR; a 19-night inclusive voyage to Antarctica; HB curriculum, conference, speaker and staff time aboard the ship.
Thank you
I appreciate you time in reading and further support. Please feel free to reach out and follow my work using the links below.
Who is Samantha Elie Botanist?
I am a badass botanist and relentless researcher who believes that plants can change the world. I am committed to impactful actions and devoted to the research that matters — the influential type that empowers and heals communities.
I aim to inspire legacy-minded community stewardship through accessible plant-based science. I educate on plants changing the world under the handle @SamanthaElieBotanist on social media, publish articles on my website www.SamanthaElie.com, and build community resilience as an avid volunteer and plant grower in the southern Salish Lowlands ecoregion.
To amplify these efforts, I applied and was selected for the Homeward Bound leadership initiative early in the spring of 2020. During this critical time, understanding that social equity, diversity, and representative leadership are vital for effective change at all scales is central to why I took action with the Homeward Bound Project.
Thank you Dr. Elise Biersma for allowing me to use your photo of Colobanthus quitensis and Deschampsia antarctica as the background for images on this page.